Yesterday we got our car NCT-ed and paid €55 for the privilege of helping keep the roads and air safe from ill-maintained bangers. Cars older than 4 years are to be tested every 2 years, and those older than 10 years are to be tested every year.

The program has seemingly worked: cars on the road are demonstrably safer than they were before the test was brought in. Just how much that is due to the NCT itself versus people keeping newer cars on the road is debatable. We had the Celtic Tiger boom which had a lot of people trading up their cars and the "00 reg" phenomenon.
Our private vehicle fleet is ageing since the NCT was introduced in the year 2000. The good folks at cartell.ie keep an eye on such things, most recently publishing a report showing the average age of a private vehicle on the roads today is nearly 9 years: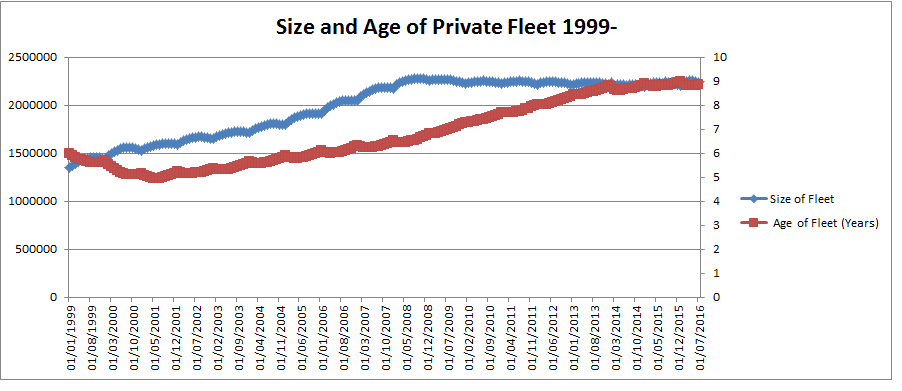 Regardless of the effectiveness of the NCT program, having it administered through a central company is anathema to Common Sense ("People > Institutions"). In NCTS, we have a large company employing 800 people whose sole job is inspecting vehicles purely on the basis of a time schedule, not wear-and-tear and other primary risk factors such as distance driven. We're legally compelled to use the services of that company, one who gets to have a bureaucratically-mandated monopoly on the services through a public tendering process.

Since most people get their cars serviced annually at a local garage anyhow, why not empower these local garages to provide a certificate of roadworthiness with indications of various elements that compromise the safety of the vehicle?

Random "deep inspections" of certified vehicles can provide a quality check on these local garages. A centralised vehicle database can allow a vehicle to be serviced at any NCT-capable garage and provide for certain mandatory checks at appropriate intervals.

Such a program would be smaller, more efficient, and ultimately more effective at achieving the public good of safer roads.
:-Phil